Unboxing and first look
I remember when the Rollerblade Coyote commercials aired in 1997, I was really into skating at the time, and lived in a small town surrounded by forests and dirt paths. The idea of skating on uneven surfaces was a dream of mine, but the price tag was crazy high for the teenager I was so it remained a dream for a long time.
Fast forward a few summers, and I'm now an adult with a bit more disposable income, living in Belgium (known for its waffles and broken-beyond-repaid sidewalks). Combined with the all-year-long wet weather, it's not the most welcoming place to be skating.
Early June, out of curiosity, I wanted to check whether those off-road skates were still a thing, and realised they still were, and that several other manufacturers started their own lines of off-road skates.
I spent a few days reading reviews and watching videos, and crossed my fingers while purchasing my first pair.
Most reviews are a few years old and it wasn't easy to cross-reference opinions about these skates, since the branding and models have evolved a bit over time. Here is a 2020 review of the SUV Next Renegade 125 skates by PowerSlide.
Here are a few videos I watched that convinced me to purchase:
I ordered the skates from https://www.der-rollenshop.de/, which provides a good choice and reasonable prices. Shopping experience was quite good and they were kind enough to let me know that my order would be delayed because the bottle of anti-rust lubricant I ordered together with the skates was out of stock.
The box contains the skates and a Torx tool, so no need to order a separate one. I also ordered a nordic tire pump from Powerslide with an integrated gauge, since I had read that inflating had to be precise in order to have the best skating conditions without risking to blow a tire.
Size-wise, I do a 10 UK, ordered the 44-45 size and they fit perfectly, even without using the head moulding.
Comparison with Fitness skates
I started skating as a teen with street/agressive skates (my beloved K2 Fatty), but later on I moved to fitness models that I thought would be more comfortable to wear on the long run. I now own a pair of Fila Primo Evo that served me well, but are still not very practical on broken roads and pavements, and I managed to fall badly at least once due to gravel.
Compared to fitness skates, the Renegade 125 are massive. I read reviews, and kinda expected this, but they feel much heavier. The impression might also come from the hard boot, but they feel stiff and bulky.
The wheel train length is also something to pay attention to. You can see on the pictures below that the wheels extend beyond the boot by a good 5cm, so you need to be careful when crossing skates.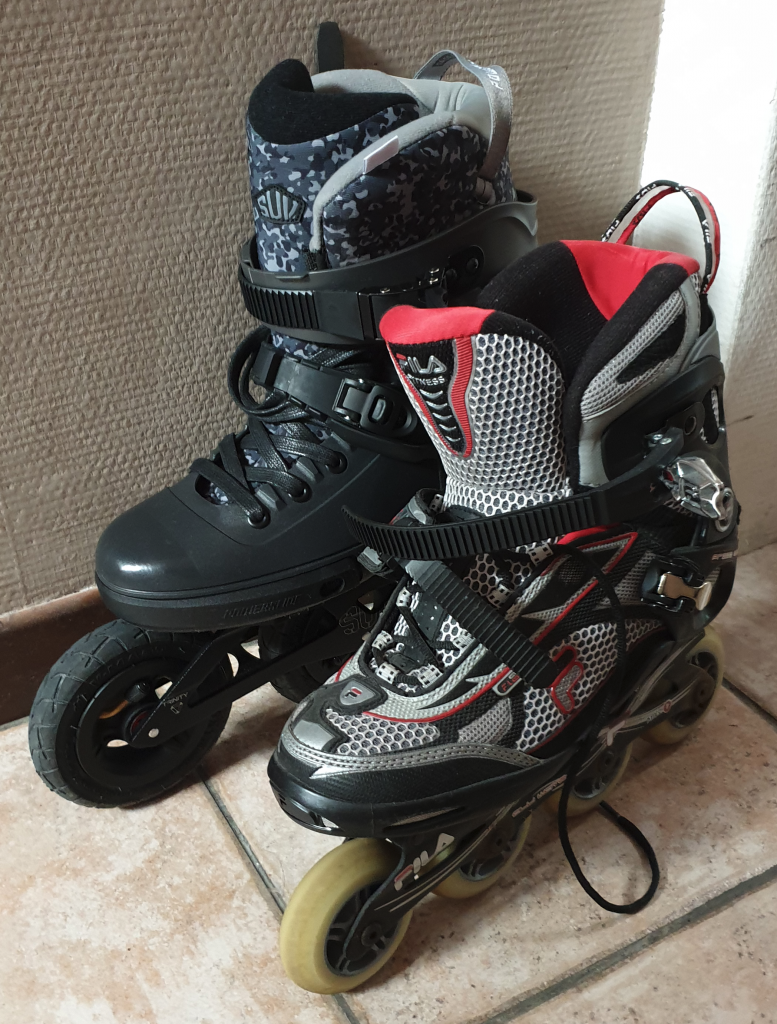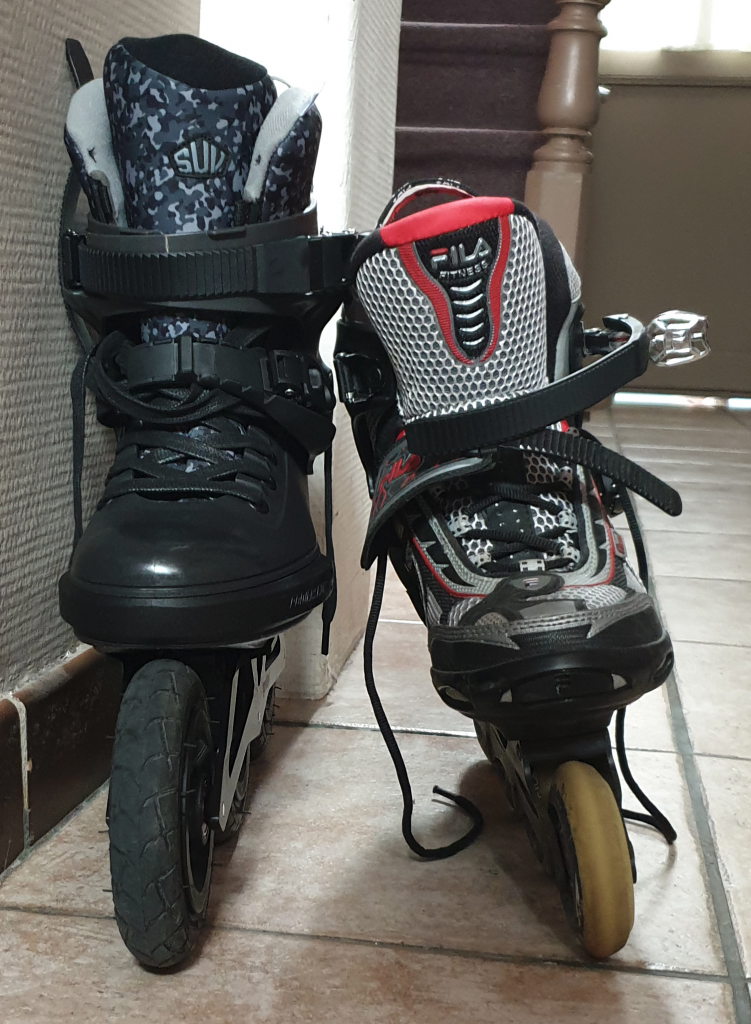 Skating experience
I'll say it again, the Renegade 125 feel heavy when worn, and you'll quickly feel it in your butt and knees.
I read people complaining about acute pain on the arch of the left foot when used for some time. I did experience it on the first run, but for me it was a fold in the liner that was too rigid and rubbing hard against the top of my left foot. I re-did the lacing so it would fit the curve of my foot top better, and on the second run I didn't experience any pain, even after riding for 1h.
Tires add a huge lot of friction to the skates, to a point it feels like skating on a … bike. It is not possible to do any kind of slide with them on, so if you try a power slide or power stop, you'll end up flying in the air.
As a result, a lot of your kinetic energy will be dissipated in the ground, and if you start to skate you'll quickly slow down and stop. I think it's a double-edged situation, because if you're riding on hard surface where you'd probably pickup a lot of speed, then you don't really need SUV skates. On the other hand, this offers much more control and stability when riding off-road, so you don't accidentally end up in a tree because you couldn't break quick enough. Just stop skating and you'll stop within a few meters.
They are surprisingly manoeuvrable for their size and weight, I was able to make (relatively) short turns, and overall riding in the city was very smooth. I never had the impression I was riding skis for example.
The real deal here is the fact you can get a smooth skating experience over every type of surface. I went over pavements, broken sidewalks, manholes, road, tarmac, gravel and even small potholes and not only I couldn't feel the difference (vibrations are well absorbed by the inflatable tires), but I kept control in all situations. Not once I felt like I was going to tip or have my wheel stuck in anything, while it was a constant concern when riding my fitness skates.
Accelerating on broken pavement? Sure. Jumping on gravel? Yep. I didn't try riding on wet surfaces yet, but given the grip they have, I am not worried anymore of clouds passing by.
Update: real-life review
Most video reviews feature paid pro-skaters who use them as skis to go down slopes, but this is not what I had in mind when I bought them. Here is a small video I took on a sunny afternoon, and how they perform on the kind of surfaces I am usually skating over.
Summary
The Renegade 125 skates are a niche product, for people who are tired of only skating 10 days per year when the roads are empty, clean and dry. They require a strong lower body to operate, and can appear frustrating if you expect the "fitness" experience on all surfaces. You'll get a lot of freedom, but you'll have to sweat for it.
I think it's a good compromise between the "nordic" skates and regular fitness skates, and the first few rides were very pleasing. I'll soon try a longer trail with some forest path to really test them out, but since my original reason for purchasing them was all-weather skating on the Belgian roads, so far I'm very pleased.